He never made it on Earth.
But a magical wish makes him the brightest star in a universe on the verge of
"The Great Suckening!"
We're totally screwed.
A RADICULOUS SPACE ROCK OPERA!
The Mighty Riff™ is a forthcoming comic from the shallow yet deeply confused mind of Brian Coles and edited by his dear, patient wife Rose Coles.
Imagine if Flash Gordon, Angus Young and Benny Hill conceived a child while watching a VHS copy of The Ice Pirates.
After wiping the bile off your chin, we encourage you to reflect on the fabulous yet triumphant disaster this promises!
And sign up for our newsletter, follow us on twitter and like on facebook so you don't miss the birth (and after birth) of comic history!
MARK YOUR CALENDAR!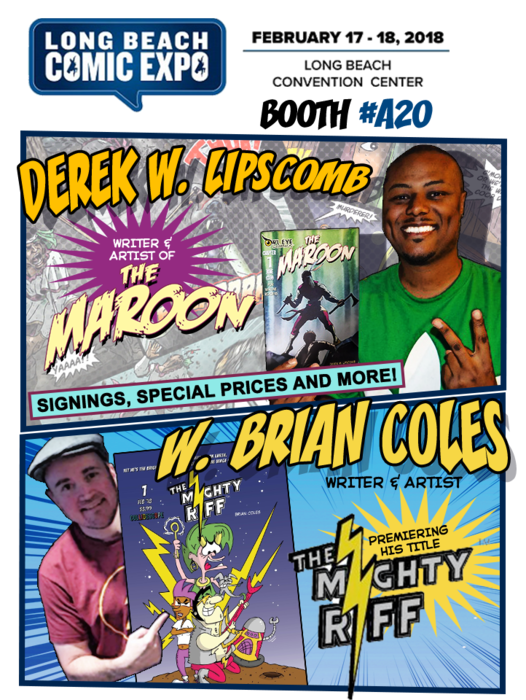 My great friend/colleague/mentor fellow artist/scribe Derek Lipscomb and I will be sharing space at Long Beach Comic Expo 2/17-2/18!
Drop by booth #A20 by for:
$1.00 OFF Premier issue (#1) of The Mighty Riff™
Includes FREE cardboard back and plastic sleeve
Will happily autograph upon request
Derek will also be sharing and selling his exceptional high adventure adult comic The Maroon with special deals and more!
Tickets: Click here
LATEST RELEASE / COMING SOON!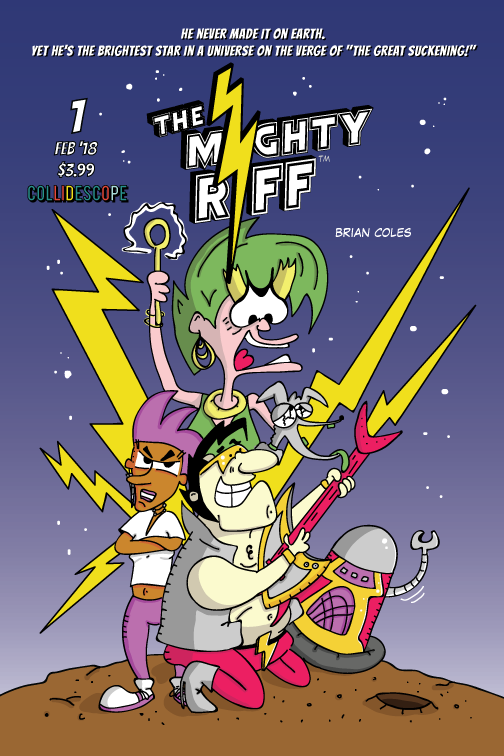 Issue # 1 COVER ART REVEALED!
Available late February 2018!
RIFF NOTES!
My great friend/colleague/mentor fellow artist and scribe Derek Lipscomb and I will be sharing a booth at The Long Beach Comic Expo February 17th and 18th. Read the full post for all the goodies! (Pssst...it's the world premier of issue #1!)
Okay, I'll admit that is a presumptuous statement - you , the reader, being a "Riffster.") The first issue hasn't debuted and you have no idea what you are getting into, and if you're even getting into it! Good grief! That said, I am happy to say that you'll soon be able to make this potentially tectonic shift in your life, basic sense of reality and your place in it quite soon. The final artwork is at the printer and from what we can tell, the printer [...]
Subscribe to RIFF NOTES!
The Mighty Riff™ Newsletter
for the latest news, special offers, sneak peaks and cosmic levels of regret!