He never made it on Earth.
But a magical wish makes him the brightest star in a universe on the verge of
"The Great Suckening!"
We're totally screwed.
Digital/Print Comic Debuting February 2018!
The Mighty Riff™ is a forthcoming comic from the shallow yet deeply confused mind of Brian Coles.
Imagine if Flash Gordon, Angus Young and Benny Hill conceived a child while watching a VHS copy of The Ice Pirates.
After wiping the bile off your chin, we encourage you to reflect on the fabulous yet triumphant disaster this promises!
And sign up for our newsletter, follow us on twitter and like on facebook so you don't miss the birth (and after birth) of comic history!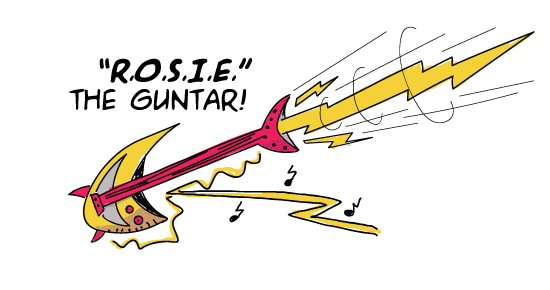 Riff must battle formidable monstrosities and cronies to save the musical soul of the universe from his arch enemies Drooping Molly, an electronic dance music burnout from the 90s, and her digital dilemma of a son –  Prince Otto Tune. Here's a sneak peek at our hero's "Guntar" – R.O.S.I.E. (Radically Optimized Sonically Intensified Eradicator).
Subscribe to RIFF NOTES!
The Mighty Riff™ Newsletter
for the latest news, special offers, sneak peaks and cosmic levels of regret!